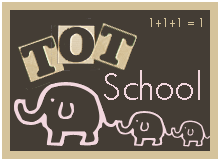 We are going to try something new, something fun, something called Tot School! O turned 15 months old today and I feel like we are not providing her enough educational opportunities. She attends a gymnastics class once a week which at her age is more or less ten or so tots running around, climbing on stairs, sliding down slides and hardly interacting with each other except to bop each other with a rain stick during music time. This is exactly what we expected when we signed her up for the class but a trip to the play ground once a week can teach her the same things for free with no bopping. We will be keeping her in the gymnastics class because she hardly sees other children.

Anyway, I'm on a tangent now. Back to tot school! I feel, which may just be my first two years as an education major speaking, that she needs a little more loosely structured activities throughout her morning as opposed what we're currently doing. As I have posted before, I am a full-time working mommy but I work evenings four days a week so I have plenty of time for some Tot School in the mornings with her before Grandma takes over. I am still in the process of planning our Tot School curriculum for the next few months and I'm sure whatever I plan now will be changed as we go along. I am hoping to fully plan two days of planned Tot School each week with reinforcements the rest of the days. I'm going to try to cover as many areas as possible without being overwhelming for either O or myself. Once I'm able to get a rough idea of what we're going to be working on I'll post it.
I'm so looking forward to this special time with O.
-M