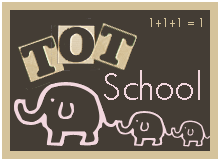 We have so much to update you on! Since we missed our tot school updates the last few weeks I'll start with those and continue to post little updates throughout next week. We have been busy during Tot School plus we took a field trip. We spent some time building with blocks. While we were doing this we were learning color, letter, number and animal recognition. She currently knows the letter O and most of her colors. We are still working on the rest and they will come with time. This is also good for hand eye coordination.
We love our play dough. We play with it multiple times every day. We had green, red, yellow and blue but they dried out so we bought new play dough on our field trip to Toys R US where we met Plex. We came home with two shades of pink, teal and purple. (All picked out by O) Most of the time play dough is used to increase her fine motor skills but occasionally we have a little throwing which is a gross motor skill. Ho Hum, can't keep it all on the table.
This is PLEX from Yo Gabba Gabba. O loves this show but not people in costumes dressed up as people from her favorite show. She would not go anywhere near him to have her picture taken. Such is life with a 17 month old. We were expecting other characters from PBS as well as Nick Jr to be there as well but we waited around for 20 minutes and no one else showed up so we checked out and headed to AC Moore. After AC Moore we checked back in Toys R Us and didn't see anyone else. I was disappointed and O didn't have any idea she was missing out on anything.
After trick or treating and candy eating we created a homemade drum set out of the candy containers and some lollipops that no one really wants to eat. We experimented with using both ends of the lollipops and decided that we like hitting the pot with the stick end better than the pop end. We learned that the pot makes a different noise than the plastic pumpkin. Most of all we learned that drums are very noisy when other members of the family are sleeping.